A message from our chairman…Fairbreak Invitational & the England captain
In our series of monthly columns, Barmy Army co-founder and chairman Paul Burnham reflects on Fairbreak Invitational 2022 and Ben Stokes replacing Joe Root as England captain…
The Fairbreak Invitational 2022 is a really exciting moment for women's cricket and it's brilliant that we're able to play a small part in it.
I'm in the hotel where all the players are staying and have been at a few practice sessions. The quality of many of the players, particularly in the Barmy Army team, really is outstanding. Watching Heather Knight and Laura Wolvaardt in the nets was impressive to stay the least. It's a seriously high standard and the competition between the six teams as they all start to get to know each other is really heating up.
The more time you spend with Shaun Martyn, the founder, the more you realise what an innovator he is. He's put an awful lot of energy and effort into this. He's not doing it for commercial reasons that's for sure, he's doing it as part of a movement and it's a movement the Barmy Army are so happy to be a part of. 
We didn't realise how big it was going to be. It was a tournament we were always keen to support but to have the England captain, Heather Knight, leading the Barmy Army team is fantastic. 
We've always been big fans of the women's game but in many ways, it's a new area for us and it's an area of cricket that's really on the upcurve so to be involved with it at this level is amazing.
Behind the scenes, you can really see the dedication and the effort that a lot of the players have put in. They're coming from 35 countries around the world, some of them have never stayed in hotels before and are being paid for their cricket for the first time, so it's quite emotional to watch at times.
I'm really happy to be able to witness it firsthand. The first game for the Barmy Army is Thursday at 8pm (5pm BST) under the floodlights in the stadium. We all can't wait to start watching the cricket.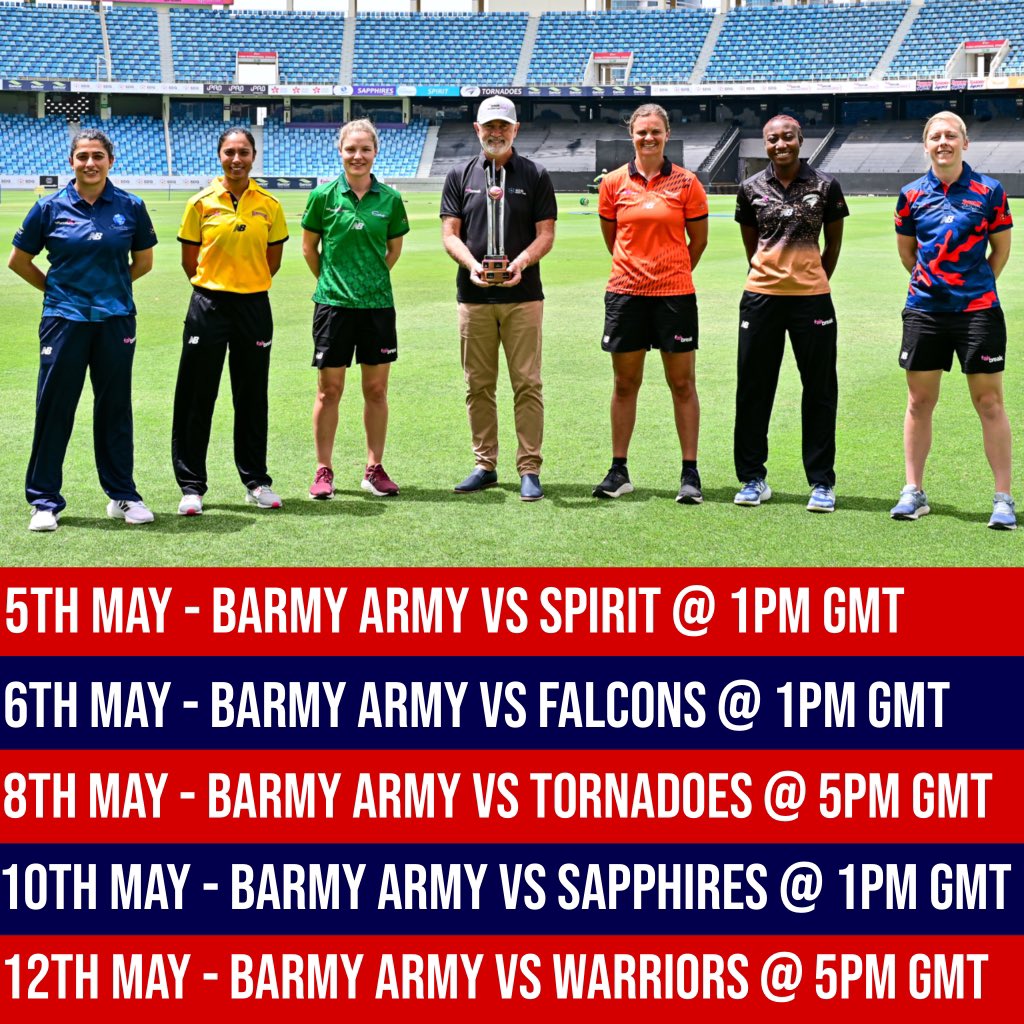 There are players that wouldn't normally get this sort of opportunity. Let's take Brazil as an example because I know Roberta Avery very well now. She would need 10 other really good players to get together and then Brazil would need to catapult itself up the ICC Rankings to have any chance and the process would take so long.
The unique nature of this tournament is that somebody like Roberta can actually pitch herself against the top names in cricket and see exactly where she is and what level she'd need to get to.
She will pass that information down the chain in Brazil as she retires from playing and starts coaching, which I think she'll do at some point, and she'll have that experience at the top level playing against and with some of the top players in world cricket. To be in the same changing room as these global role models will be an amazing experience.
Perhaps some of the associate nation players won't be as strong as some of the others but having seen the net practice I fully expect some to make a name for themselves. The best fielder of the tournament might well be from an associate nation and from what I've seen in practice, there will be some others catching the eye as well. 

Moving on to the England men's Test team. It's important to start by saying what a phenomenal job Joe Root has done as captain, particularly under some really testing conditions in recent years.
Leaving the role with the most runs, appearances, and wins as captain, as well as being the first skipper to tour Australia twice in more than 100 years speaks volumes about what a fantastic ambassador he has been.
Five years is a long time. Joe looks like he's aged about 10 years in that time, as all England captains do. As ever with Joe his timing, and I don't just mean as a batter, is spot on. He's never said the wrong word and I don't think he could because that's part of him, I've heard so many people say he's one of the nicest blokes you can meet in the game. 
I think that Joe's decision was the right one and that Ben Stokes is the definitely right person to take England forward now. 
I know Ben was 100% behind Joe and I don't go with this theory that he can't do it because he is an all-rounder. Ben Stokes is all about the team, he's not about himself at all, and I think he'll be a brilliant captain.

Joe is going to be there as someone for him to lean on and now he can focus more on breaking even more batting records. It doesn't really matter where he bats for me, I think he will score a ridiculous number of runs moving forward.
I've already seen that Broady and Jimmy are out saying they're going to play for Ben, which is fantastic. Sometimes just shaking things up a bit is an effective strategy and I think that'll be the case for England.
I think we'll find that things are going to change and England might have a very successful summer against some top teams because home conditions will suit. I think we'll play really well, particularly with the full home crowds getting behind the team!
---